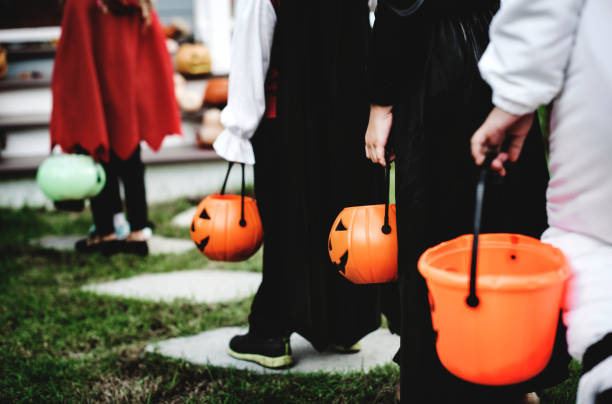 The annual parade of spooky skeletons, broomstick-riding witches and carved pumpkins is a sure sign fall is well under way. Americans of all ages seem to love celebrating Halloween.
There were an estimated 41 million trick-or-treaters between age 5 and 14 in 2019, according to the U.S. Census Bureau. While many didn't participate in 2020 due to the pandemic, the spooky season has bounced back in a big way – with about 126 million potential stops for candy—or opportunities for pranks.
But even if the little devils running around your neighborhood are kind-hearted souls, don't think Halloween mishaps can't happen to you. The holiday is fraught with hidden hazards and risks. Some insurance companies report a big spike in vandalism and property damage claims on Halloween.
Here are a few Halloween claims that could darken your day.
Your Spooky Decorations and Furry Friends Could Be an Injury Hazard
Even if you're not in the running for your neighborhood's unofficial Best Halloween Decorations Award, a modest arrangement of glowing pumpkins, gravestones and ghosts could still pose an injury risk to anyone who comes on your property. For example, a guest could hurt themselves by tripping over an extension cord plugged into your 6-foot fire breathing dragon.
As for your real life pets, it's a good idea to keep them away from anyone who comes onto your property or into your house. Halloween can be an anxiety-inducing event for your dog, which can lead to dog bites.
If a guest gets hurt on Halloween, a standard homeowners insurance policy covers injuries to others. The medical payments coverage within a policy pays for small injuries (typically between $1,000 and $5,000) while your liability coverage pays for more serious injuries and a legal defense in case someone sues you, up to your policy limits.
Your Jack O' Lantern Could Be More Than You Bargained For
Carving pumpkins is a great Halloween tradition. But putting an unattended flame inside a pumpkin isn't a great idea. Especially if you surround it with flammable decorations like dried flowers, cornstalks and crepe paper.
On average, there were 770 home structure fires per year from 2014 to 2018 that began with Halloween decorations, according to the most recent data from the National Fire Protection Association (NFPA). More than one-third of these fires were attributed to candles.
While accidental house fires are covered by homeowners insurance, it's probably not what you had in mind for Halloween. If you plan to decorate with jack o' lanterns, the NFPA recommends you use a battery-operated candle or a glow stick to keep things spooky.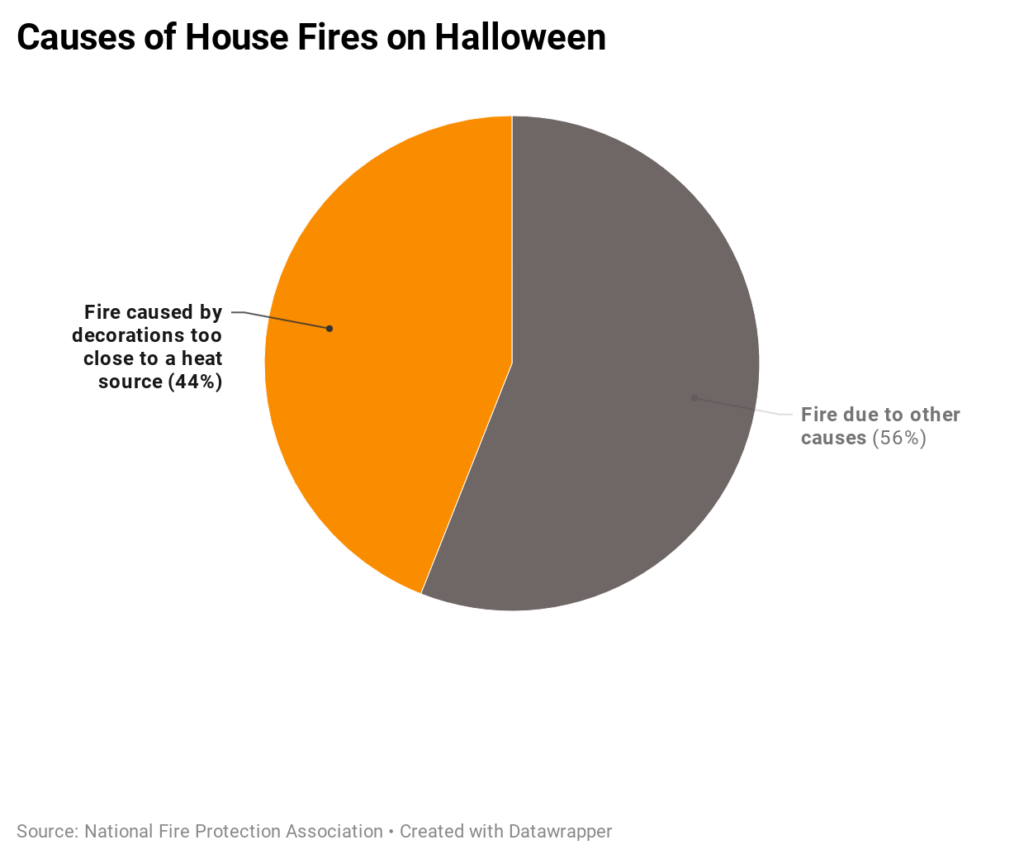 Halloween is a Big Night for Car Thefts
If your pets, decorations and accidental fires aren't enough to worry about, you also need to be wary of car thieves. That's because 2,191 cars were stolen on Halloween in 2019, according to the most recent data from the National Insurance Crime Bureau. Halloween was the fifth biggest holiday for stolen cars, behind New Year's Day, Labor Day, President's Day and New Year's Eve.
But Father Time don't always grab the top spot for car thefts. Halloween was the hottest holiday for car theft in 2015 and 2016. In fact, since 2013, Halloween consistently landed in the NICB top three for the holiday with the most stolen cars, so it's likely this year could be more of the same.
Car thefts are covered under the comprehensive insurance portion of your auto insurance policy. Comprehensive insurance also covers vandalism damage, such as graffiti. But keep in mind, this is an optional coverage, and you have to add it to your policy and pay extra for it. If you're not sure you carry this coverage, it's a good idea to call us and ask!
Tips to Avoid Halloween-Related Insurance Claims
With a few proactive steps, you can help reduce your chances of your Halloween ending on a sour note. Here are some things you can do:
Keep your walkways clear. Make sure your walkways are well-lit for visitors and clear of trip hazards such as electrical cords, garden hoses, wet leaves, snow and decorations (like carved pumpkins).
Secure your railings. If your property has stairs that guests will have to climb, make sure the railings are secure to prevent trips and falls.

Secure your pets.

 Your pet might get spooked by doorbells and groups of trick-or-treaters in costumes. Keep your pets away from guests in order to avoid injuries like dog bites and cat scratches.

Decorate safely.

 Avoid using real candles and other flammable materials such as crepe paper and cornstalks. Consider glow sticks or battery operated LED lights instead of a candle. If you need to plug in any decorations, make sure you don't overload electrical outlets.

Park your car in a safe place.

 If you don't have a garage, park in a well-lit area to reduce the chances of motor vehicle theft and vandalism.
Follow these tips and we know spooky season won't be scary at all for you!